Car Rental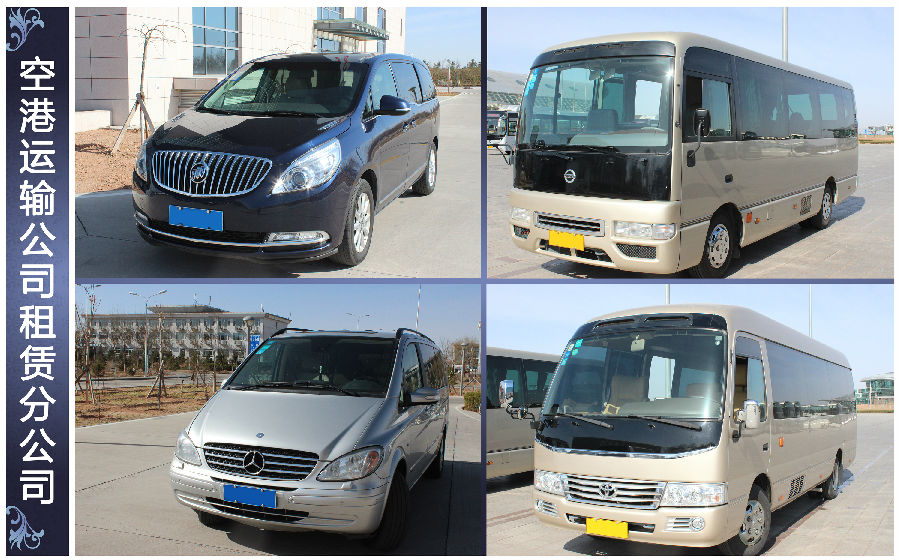 ◆Shenzhou Car Leasing co., LTD. is an wholly-owned enterprise supported by the State-owned Assets
Supervision & Administration Commission of GOC and it is affiliated to Ordos Airport Transportation co.,
LTD.. The company insist on its core principle, which is "Treat serving airport as the main purpose,
regard generating passengers' convenient transits as the guiding; Based on the airport coach service,
and expand urban bus service, tourism, commute and other serving markets". It mainly serves Ordos
Airport and society
◆Company's business scope: inter-province, intercity, intercounty and also inside-county vehicle charter and transport service, city-wide bus, rental shops, car leasing (now we cooperate with Shenzhou Car
Leasing co., LTD. on developing car leasing business) and freightage services. We develop vehicle
charter services for meetings and tourisms etc., offering vehicles owing 37 to 49 sites.
◆We offer 49 Operating vehicles , containing 28 luxury tour coaches, 18 buses and 3 freight vehicles. Meantime, we operate 4 bus lines (airport ring road number1, 2, 3 and a fixed line from airport to
Dongsheng district) and 3 passenger transport lines (inter-province and intercity un-fixed tourism charter
line, intercounty un-fixed tourism charter line, and inside-county un-fixed tourism charter line).
◆With "Safty is the first, service to everyone " as the objective, we are providing safe, qualified and efficient freight and passengers transportation service all the time sincerely.
◆Terminal car leasing hotline: 0477-8878099 ; Shenzhou car leasing hotline: 15247718989
◆Rentingrne qualifications: meet the need of conditions below:
1.Domestic citizens:
Own valid id card (only the second-generation card is available)
Own valid driver's license o (drivers should complete internship and have independent driving conditions)
Own credit card of their own with enough balance (credit limit should above six thousand yuan, no cash)
2.Foreigners:
Owe valid driver's license got in China (drivers should complete internship and have independent driving conditions)
Owe valid residence permit ( residents living in China)
Own valid passport
Own international/domestic credit card with enough balance ( with chip and a credit limit of more than $1000)
◆Cars' picking-up and returning process:
Pick-up process: the customer handle the cars' pick-up procedures in pre-book stores (the second generation id card,driver's license and credit card should be taken); Customers and staff check the
vehicles together and sign the leasing agreement, then the customer leave a deposit by credit card in
order to get renting pre-authorization.
Returning process: customers should put cars back to the designated stores, then check the cars
together with staffs again and make the settlement. (cars are fully refueled with Gasoline Number 97 by
the leasing company before leasing so customers need to refuel again when returning, otherwise 15%
poundage will be charged.). After taking the deposit back and cancel renting pre-authorization, customers would also be required a 2000 RMB deposit using credit card for vehicle violation, which will thawed and return to customers' account in 3 working days if there is no vehicle violation within 30 days . If balance in customers' credit card is not enough, the rest money of the deposit can paid by another one(all according to the bank regulations).
◆Deposit: the deposit is paid by the way of credit card pre-authorization, as different as the vehicle types. The payment just means a blocking on customers' account rather than a real consumption, which is
canceled as long as cars returned back, and it will thaw by the bank within 7 working days.
◆Time/mileage limit: a single renting should at least 1 day (24 hours), and it is regarded as 1 day if less
than 1day. There is no limit on mileage pre-day.
◆Use of Fuel: customers' are responsible for the fuel cost and the road toll during the renting journey.
Meantime, they will be charged to balance the difference in accordance with the leasing company's
renting contract if the fuel capacity is lower than that before renting.
◆Violation penalties: customers should assume the legal punishments for violation penalties during the period they renting cars and actively deal with the violation tickets.
◆CAR Inc:http://order.zuche.com/border-59-3793